Disaster Recovery for any business
Disaster Recovery shouldn't cost a fortune. But it should recover like it did. Every company deserves rapid failover without all the hardware and complexity.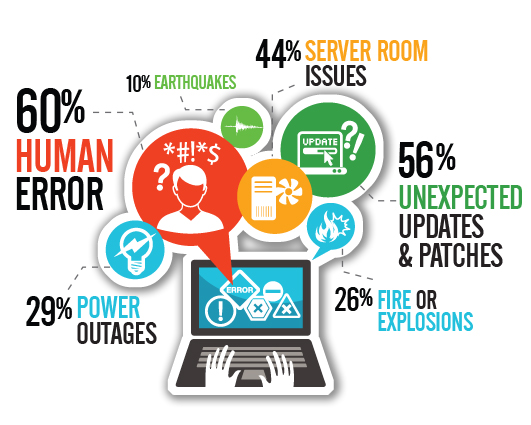 Rapid Failover from Anywhere:
You can failover a single virtual machine (VM), applications, servers or a whole network locally or in the cloud in minutes at no extra charge.
Reduce Hardware Costs:
When the cloud and intelligent software join forces, good things happen. It's how we erase expensive hardware and complex steps from the DR equation so you can bring your business back to life in minutes.
Boot VMs Concurrently:
You can boot up to 50 VMs concurrently in minutes on the appliance and 200 VMs concurrently in the cloud.
Reduce Hardware Costs
When other say get more hardware, we say get more cloud. Finally, software that understands not all data needs expensive local storage.
Lower Upfront Costs:
Taking a cloud-centric approach to failover eliminates the expensive hardware and resources needed to create a failover site.  Increasing business uptime with a lower upfront investment is a win-win.
Maximize Storage Hardware Costs:
You know that not all data needs expensive local storage and now you'll have software that automates this process for you.  Set the rules and our software does the rest. We call it cloud spillover.  Our customers call it more money in their pocket.
Lower Storage Hardware Provisioning Costs:
We're pretty sure you have bigger plans for your IT resources, which is why we eliminate hardware provisioning burdens.  Implementing a cloud architecture for failover means push-button pay-as-you grow scalability.
Going Beyond Basic Encryption
You take your privacy seriously and so do we. It's our mission to make sure your data stays that way: yours
Triple Layer End-to-End Encryption:
Data is encrypted at the source, transferred via a secured connection then encrypted again in the cloud. We call it UltraSafe for good reason.
For Your Eyes Only:
You get the encryption key so you're the only one that can view and decrypt files in the cloud. Keep your privates private.
Mobile Data Security:
Control what confidential data users can transfer, wipe data from remote devices, and backup a wide range of mobile and laptop devices to prevent data loss and theft.