Unlock Potential with Microsoft 365 – Introducing Microsoft Planner
Situated halfway between the complexity of 'Project' and the simplicity of 'To Do' you'll find Microsoft Planner; Microsoft's answer to the likes of highly publicised Asana, Monday.com and Trello. Planner is Microsoft 365's mid-level task management platform that integrates many common task management features into an intuitive interface that connects seamlessly with many other 365 applications such as Outlook, Teams and SharePoint to provide a hassle-free experience.
Planner – The need to know
With so many options out there vying for your attention, choosing the right task management platform for your business can be tricky. Microsoft 365 users should give Planner serious consideration as it comes included with business, educational and premium subscription. Let's look at the key features of Planner so that you can make an informed decision.
Plans
Before you set up individual tasks you first have to establish a 'plan.' This is a gathering space for all tasks relating to a particular topic. Setting up a plan takes just minutes; give it a name, an optional description and decide who to extend access to.
Tasks
These are the individual jobs you assign to members of each plan. Setting a task can take a few seconds if you only want to attach a name, due-date, and assignee. However, you can return to the task and populate it with additional information. You might want to add a start date, a description, a priority level or attach several files that will help the assignee complete the task.
One particularly useful feature is the 'checklist.' This lets you configure the individual steps the task requires.

You can also attach coloured labels to each task for ease of identification. These labels can be assigned names of your choosing. The label you assign will appear on the task card or as a tab on the top right of the task when you open it.

Buckets
Planner's Kanban Board interface arranges tasks in columns referred to as 'Buckets.' Arranging tasks in this way gives an easy-to-interpret overview of the status of each task. How you title your buckets is entirely up to you but often users include headings such as 'not started' or 'completed.'
Views
Planner features 3 view modes to display task information; board, chart and schedule view.
Board view could be considered the default view. Task cards are displayed in their assigned buckets with information such as assignees, due dates, labels and checklist completion clearly visible.

Chart view displays task information on a simple dashboard in the form of various graphs. Data is divided into 4 categories: status, bucket, priority and members.
Schedule view, as the name implies, displays task information in a calendar format. This is the most useful view for planning future tasks and looking ahead to see which tasks are due imminently.
You can apply filters to each view to focus in on specific information; ideal when your plan starts to become crowded with many tasks. Focus on overdue tasks, tasks due imminently, tasks assigned to a specific team member and much more.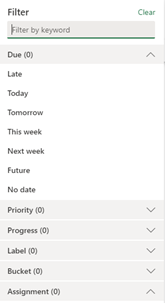 Teams, Outlook and SharePoint Integration
Firmly embedded within the 365 environments, Planner works in harmony with various other Microsoft applications, particularly Outlook, Teams and SharePoint.
In Teams, you can incorporate Planner in two ways, as a tab within a channel or through the Planner Teams app.
Another great feature is the ability to synchronise plans to your outlook calendar. By doing this planner users can view tasks through the 'other calendars' section of their Outlook account. Planner also sends automated emails to users whenever an item is added in the comments section of a task and Planner brings together all email communication relating to a particular task under the 'conversation' page.
And finally, whenever a new plan established a corresponding SharePoint site is automatically launched and can be accessed by navigating to the files page via the banner at the top of the Planner interface.
With its slick interface, intuitive design and harmonious integration into the Microsoft product line-up, Planner features a useful range of task management features in a package that your team will be able to master in no time at all. If you're a 365 customer you may already be paying for it, so why not give it a try today.
We're 4tc Managed IT Services
4TC can support you with all the services you need to run your business effectively, from email and domain hosting to fully managing your whole IT infrastructure.
Setting up a great IT infrastructure is just the first step.  Keeping it up to date, safe and performing at its peak requires consistent attention.
So we can act as either your IT department or to supplement an existing IT department. We pride ourselves in developing long term relationships that add value to your business with high quality managed support, expert strategic advice, and professional project management.