Making the most of the Cloud.
As we highlighted in our previous article, transitions to the Cloud over the last two years have predominantly been rushed and not thought out. This has led businesses to be 'managing' as opposed to thriving, and this simply isn't good enough.
Along with this rush has come an influx of IT support companies that claim to give you the best support in the business, that is quick, and catered etc, when in reality what they did was grab all the tools you use and throw them on the Cloud, anything that got left behind in the process was easily forgotten.
Once on the Cloud a lot of business owners choose Microsoft 365's suite of tools to provide their team with what is needed to complete their job roles effectively, and it's been this way for over 2 decades.
For all the time that they have been available to the public, now is definitely the most difficult time to implement 365 due to the very extensive range of tools available and can lead to some serious frustrations surrounding its use. What many don't realise is that many of the tools in Microsoft 365's repertoire have multiple uses. Let's look at an example of this.
For example, you may be having trouble with SharePoint, perhaps finding it clunky and frustrating to use. If this is the case simply stop using SharePoint and migrate all your data into teams, yes, the same Teams that your team message each other and send files on.
We will now explore some of the Microsoft features that are capable of more than you might think, and some that you may not have heard of at all that will allow you to get rid of some of the apps now that don't work in conjunction with others.
Microsoft Teams
We've all heard of Microsoft Teams by now, its daily user average worldwide has reached an average of 250 million people so I would be surprised if you haven't heard of it. Let's look at some of the more intricate features of Teams that you may not have heard of.
Teams within Teams
Firstly, build-out a digital footprint of your business within Teams. You can group access to files, folders, and other resources within Microsoft Teams, this all takes place within the section identified as 'Teams'.
You can create Teams however you please, a good way would be by functional department such as Sales, Marketing or Purchasing for example. It is up to you; any combination mix that best suit your requirements will do. How you do this all depends on you and your business goals and how you choose to run things, you must remember what works for some may not work for others so spend time assessing what will work best for you. To enable access, each team will have only appropriate users assigned to it, in the process keeping files and 'the conversation' related to that individual client, project or department ring-fenced to the users that require it. It is important to ring fence, you wouldn't want an apprentice to be able to access payroll for example, would you?
Select OneDrive, the document will be downloaded. You can now share your document with others.
You can then apply controls to the document, such as who can view the document, passwords, etc.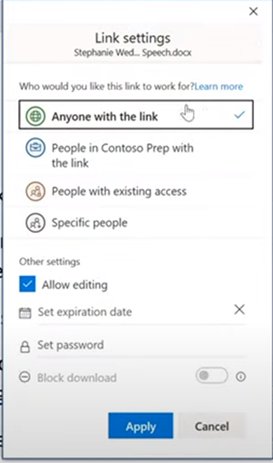 Co-Authoring is now possible with your colleagues. Once you all have the document open at the same time if you glance to the top of the document, you can see the colleagues that are co-authoring with you. You can even see what part of the document they are working on by looking for their cursor and finding their name above it.
A Channel is a subdivision of a team and is a place where more focused conversation can take place. Channels can be made accessible to all team members or only private to specific users, it is fully customisable. Channels are a great way of sticking to the 'need to know' principle. Extend access only to those that need it, this way you know that no accidents will be made.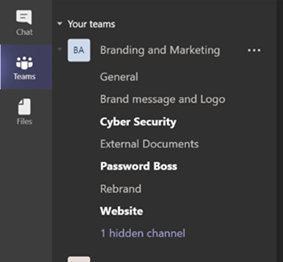 When you create a 'Team' within MS Teams, a corresponding SharePoint Site is automatically configured. To break it down, what you create within Teams is mirrored within SharePoint, so there is no need to configure each platform separately.
The permissions granted within Teams are carried over to SharePoint. This means only those with access to a particular team or channel will have access to the corresponding file libraries within SharePoint – this way access controls are spread across the entire organisation and not just this one app.
Let's take a look at one other feature of Teams that is particularly impressive and in particular will make remote working much more efficient. Introducing Teams Co-Authoring. Using Co-Authoring will allow you and your team to achieve levels of collaboration and productivity from anywhere in the world. Let's see how it works.
Teams Co-Authoring – How it works
Open a document of your choice in Word.
Then put the document into the Cloud to allow for co-authoring. Navigate to the top right of your screen and click 'Share'.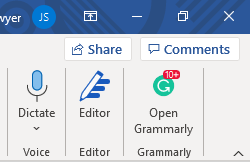 3. An option will then appear in the centre of your screen to upload to OneDrive.
Co-Authoring can assist you in achieving advanced levels of collaboration no matter your team's geographical location. This feature is revolutionary, with our teams being spread out everywhere working remotely, it allows them to stay on top of their work whilst still working as a team.
We could talk about Teams all day, its features are endless and it is definitely worth taking a look at. But, we will now look at a different tool in the Microsoft 365 arsenal, a tool that allows you to automate processes through the help of your 365 tools.
Power automate
Power Automate makes it possible for Cloud services to work together – you can create a workflow with a multi-step flow across a variety of applications.
Practically, power automate is a revelation, let's say for example your business grows rapidly and you suddenly have a social media following that tweet you regularly, so regularly in fact that you are having to take a team member away from their normal integral duties to like, follow, and reply to them – the monitoring of socials can become a full-time job rapidly.
With Power Automate you can set up a flow that follows the potential client, sends them a reply, and adds them to a spreadsheet which is emailed to you for your approval. This allows your team to continue work as normal.
How does it work?
BPA (Business Process Automation) works from an initial trigger action, be that prescheduled or because of a prior human action. A series of pre-scripted steps will then take place. To give you control, you can then define your own parameters from which the automation will act.
Power Automate has a bright future. It allows you to remove mundane tasks from the hands of skilled employees and instead allows you and your team to use time as effectively as possible.
The Cloud
4TC take time to understand the daily challenges that your business faces. We then provide cost-effective tech solutions to these issues that will help you save time, protect vital data, and enable you and your staff to be more effective with your time management. We will ensure that your staff are using the technology at their disposal in a way that works for them, whilst making sure that they are educated on how to use it as productively as possible. The right Cloud solution has the power to revolutionise your business forever – utilising your IT to its full potential is essential to guaranteeing that you and your business can thrive and grow into the future. If you would like to find out more on how 4TC Services can provide affordable tech management for your business, drop us an email or call us now for a full demonstration.
We're 4tc Managed IT Services
4TC can support you with all your IT needs! We are trained professionals with years of experience and can guarantee you a service like no other.
We will give you and your business consistent attention – assuring that we do not only provide you with the best now but also continue to provide you with the best going into the future. We can act as either your IT department or to supplement an existing IT arrangement.
Get in touch now!