Making The Transition to Windows 11
In our last piece we discussed the withdrawal of updates and support for Windows 10 by Microsoft, which is prompting many businesses to make the switch to Windows 11. In this piece, we give you guidance and insights into making a more seamless transition to Windows 11.
Moving to Windows 11 For Businesses
As discussed in our last piece, it's possible to transition from Windows 10 to Windows 11 for free! Before making the transition, a key thing to explore is making sure that devices meet the compatibility requirements beforehand.
It's likely this will not be an issue for your devices, but it's better to look before you leap! There are certain other requirements as well that can obstruct adopting Windows 11, such as Trusted Platform Module (TPM) 2.0 requirements, which may be resolved by manually enabling it on the device if there is an issue.
If you find that any devices are not able to support Windows 11, they will either need to be upgraded, replaced, or have Extended Security Updates (ESUs) purchased from them, which can offer a lifeline of continued security for a price.
When will Windows 11 Support End?
No date has been confirmed as of yet for the end-of-life support for Windows 11, but it's looking very unlikely that it will be anytime soon. One reason is because Microsoft has not yet released a successor OS, Windows 12 yet, which is due to be released in 2024. Even so, it will be several years until Windows 11 is no longer supported by Microsoft.
Preparing Your Organization to Transition from Windows 10 to Windows 11
Given that the upgrade is free and can be done at the click of a button, making the transition is a simple enough process on the surface. This said, depending on the size, complexity and setup of your organization, there are some important things to consider ahead of and during the transition.
These include:
· Prepare Your Team: Not just notifying the team of the rollout, but also this is an opportunity to help them to take advantage of Windows 11's new features in their daily work!
· Systematise the rollout with cloud configuration tools: Cloud configuration tools like Intune, Windows Autopilot, and Configuration manager can be used to systematically roll out the upgrade without missing a beat.
· Update your Documentation: Windows 11 will have a different visual layout compared to Windows 10 in some key respects, so if your organization offers step-by-step guides, it will be important to update the processes, terminology and images in them appropriately. · Validate your IT environment with Windows 11: Microsoft offers a free Insider Program that enables you to ensure your software and hardware will work as intended ahead of a rollout.
· Conduct a Phased Rollout: Depending on the size of your organisation, a phased rollout can help to ensure a smoother, less disruptive process that identifies gaps, and implements best practices along the way.
Benefits of Transitioning Your Devices to Windows 11
Here are some of the range of benefits of transitioning to Windows 11 for users and businesses more broadly:
· Elevated Performance and Efficiency: With improved resource management and faster load times, Windows 11 offers better device performance to your business.
· Revamped User Interface: more than skin-deep, the revamped user interface is designed (although not all will agree!) to offer a sleeker user experience.
· Integrated Teams in Taskbar: ensures that your team can connect with colleagues with a single click.
· Enhanced Cyber Security Features: From the ground up, Windows 11 does come with more in-built security features that align with the zero-trust security model, an increasing standard for ensuring better business security.
· Direct Access to Android Apps: Windows 11 offers direct access to Android apps via the Microsoft store and Amazon appstore, which can bring together mobile and desktop experiences for users in organisations using both Android and Microsoft devices.
· Optimised for the Latest Hardware and Software: Configured for the latest hardware and being the most compatible of the Windows OSes with the latest softwares, Windows 11 will correlate to better performance for businesses in both areas.
Need a Hand with Making the Transition to Windows 11?
4TC can help! We can ensure that all aspects of your IT environment are ready for the upgrade to Windows 11, so that your business enjoys a smooth and harmonious transition. Sooner is better than later when it comes down to getting the best out of your business's security and performance. Get in touch with us today and we'll be glad to help you to take the next steps.
We Are 4TC Managed IT Services
4TC can support you with all the services you need to run your business effectively, from email and domain hosting to fully managing your whole IT infrastructure. Setting up a great IT infrastructure is just the first step. Keeping it up-to-date, safe and performing at its peak requires consistent attention.
We can act as either your IT department or to supplement an existing IT department. We pride ourselves in developing long-term relationships that add value to your business, with high quality managed support, expert strategic advice, and professional project management. Get assistance with your IT challenges today by getting in touch, we'll be glad to assist you!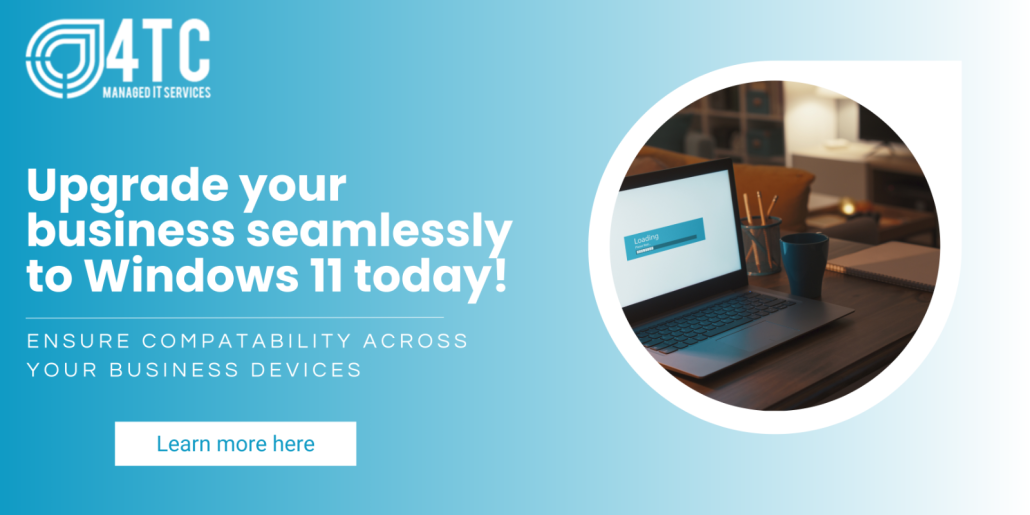 https://www.4tc.co.uk/wp-content/uploads/2023/11/4TC-Featured-Image-2.png
800
1200
Wingman
http://www.4tc.co.uk/wp-content/uploads/2016/02/4tc-logo-5.png
Wingman
2023-11-15 11:54:48
2023-11-16 11:57:36
Making The Transition to Windows 11