Unlock Potential with Microsoft 365 – The New additions to 'Teams' that you should know about
If you're already a Microsoft 365 user, you've likely become very familiar with Teams in recent months.  With its intuitive interface, useful and extensive range of features plus deep integration within the Microsoft product line, it's not hard to see why this empowering platform has become the communication platform of choice for over half a million companies worldwide.
Assuming you're familiar with the basics, let's cut to the chase and explore some of the latest features and updates that have been introduced or are expected to arrive imminently on the platform.
But before we get started…
New features arrive in the form of updates so without the relevant updates installed you won't be able to explore new additions to the Teams.
Checking for updates is simple; navigate to your user icon in the top right of the app and select 'check for updates' from the drop-down menu.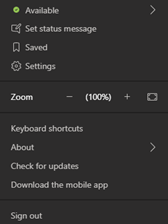 Teams will then automatically scan for new updates and launch any that are available.  If you're already up to date you'll see a message stating 'You've got the latest updates, enjoy!'
The New Meeting Experience
First, check to see if you have this update installed and activate it.  Navigate to your user icon and select 'settings' from the drop-down menu, then make sure the box beside 'turn on new meeting experience' is ticked.

Then restart Teams as required.
What's new?
Meetings will open in a separate window and not within the app. This allows for unencumbered use of the Teams app while your meeting takes place in a completely separate space.
The 'meeting controls' have been relocated. They're now fixed above the meeting, and no longer obstruct the video streams or any content that is being shared.

'Large Gallery' mode. This mode lets you view up to 49 video streams simultaneously in meetings with over 10 attendees.  To turn it on, simply select 'large gallery' from the 'more options' menu located in the meeting controls bar.
'Together' mode. Together mode can be activated for meetings of over 5 attendees.  This mode uses AI to bring all participants in a video call into one shared virtual space; such as a meeting room, lecture theatre or café.  While it may seem like nothing more than a bit of fun, Together mode was actually designed as a way to reduce the cognitive fatigue experienced during video meetings, and give users the ability to exchange social cues in a more natural way.  It's also a great way to reduce the distraction caused by busy backgrounds.
The 'Focus' feature. This new feature simply removes the various video streams from the meeting window and allows you to focus on the content someone is presenting; great for minimising distractions.
Meeting Notes. Not a new feature but it highlights the benefits of having meetings displayed in a separate window.  To take notes go to; Meeting controls>Show meeting notes>Take Notes.  You'll then be redirected back to the Teams app while the meeting continues in the separate window.
The New Meeting Experience in Teams will eventually become the default experience.  Microsoft have introduced it in this way to give users the chance to voluntarily explore the new features before it becomes the norm.  Why not take it for a spin today and get to grips with some of the cool new features.
Other new and Improved features:
Faster status updates
Introduced on 21 August status changes are now implemented in real-time.  This means that when you change your status to 'away' as you pop out for lunch, or 'in a meeting' as you take that important call, other users will know about the change much more quickly.
Increased meeting controls
You can now make all meeting attendees wait in the lobby of meetings you organise so that you can individually approve each participant.  To enable this option to navigate to; Meeting options>Who can bypass the lobby>Only me.
Launch meeting instantly with the 'meet now' feature
Sometimes you want to launch into an impromptu meeting with urgency to discuss something important.  This is now easier to do than before thanks to the 'meet now' feature.  Launched from within the relevant channel, simply click on 'Meet' at the top of the channel and select 'Meet Now' from the drop-down list.
Search specific chats or channels
Introduced in July, you can now perform searches of specific chats or channels.  Press 'ctrl+f' (or cmd+f if you're a mac user) and the search function will now only search the channel or chat you're in.
Meetings now support up to 300 participants
In late June the max capacity of Teams meetings was increased from 250 to 300.
The New 'sync' files feature
July saw the introduction of a 'sync' button to channels.  This lets you ensure you and your group have access to the latest versions of your shared files. This button essentially performs a 'refresh' function.
Coming Soon…
Live reactions – You'll soon be able to react during meetings by using emojis to express sentiments.
Chat Bubbles – Chats will no longer be hosted in a separate window from the meeting and will instead appear on the 'meeting stage.'  This will bring chats to the fore and make them a more fundamental part of the meeting experience.
Speaker attribution, live transcripts, and translation
Speaker attribution is coming to the 'captions' feature so that it will be easier to keep track of who is speaking at any given time.  Later this year 'live transcripts' will be introduced as another way to record and review meetings.  The transcript file will automatically be saved in the chat tab after the meeting.  And finally, the translation will enable users to translate live captions into their own language – perfect for multi-lingual workforces.
Microsoft is constantly evolving the Teams experience, introducing new features on a monthly basis while retaining the intuitive architecture we're all now familiar with.  Use the link below to stay up to date with the latest developments as they occur:
https://support.microsoft.com/en-us/office/what-s-new-in-microsoft-teams-d7092a6d-c896-424c-b362-a472d5f105de
We're 4tc Managed IT Services
4TC can support you with all the services you need to run your business effectively, from email and domain hosting to fully managing your whole IT infrastructure.
Setting up a great IT infrastructure is just the first step.  Keeping it up to date, safe and performing at its peak requires consistent attention.
So we can act as either your IT department or to supplement an existing IT department. We pride ourselves in developing long term relationships that add value to your business with high quality managed support, expert strategic advice, and professional project management.